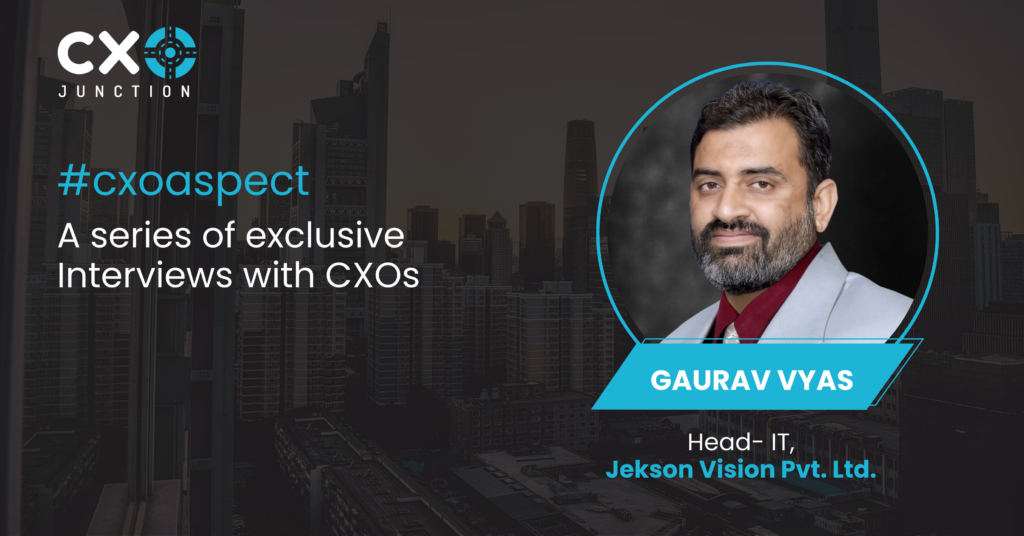 #cxoaspect – A series of interviews with #CXOs to learn and understand diverse aspects related to their leadership and handling of multiple roles/responsibilities. This time, we are pleased to know about the journey of Gaurav Vyas. He has contributed towards cybersecurity and has set a remarkable working style. We are pleased to know his thoughts on a few set of questions.
1. How will you describe your journey in the cybersecurity Industry?
I am Head of IT at Jekson Vision, and my major responsibilities are IT Infra, Business Applications and IT security.
2. Can you describe your current role, and what responsibilities do you undertake?
We need to be updated on daily basis with new technology and solution that is best suitable for our business need, my journey with Cybersecurity is full of excitement and learning, of course with many challenges.
4. Can you discuss a time when you had to handle a security incident, and what steps you took to resolve it?
IT is no more a support function but a business enabler, so we need to align with business growth with the help of technology.
We need to keep updating new skills and continuous learning.
5. If you could make one recommendation to the next generation of cybersecurity leaders, what would it be?
Best way to continuously educate self and the team as well as all other employees in the organization and follow the best practices.
Do you think, there's a need to revamp your Cybersecurity knowledge? If yes, then we have an exciting opportunity for CXOs – ABC of Cybersecurity Webinars. To win bumper prizes such as CF Gold Membership, One Plus Phone and a Brand New Royal Enfield.
Join in each session! Registrations Open now.
If you are an Enterprise Leader and would like to join our CXO Junction City Chapter Groups, register yourself here: