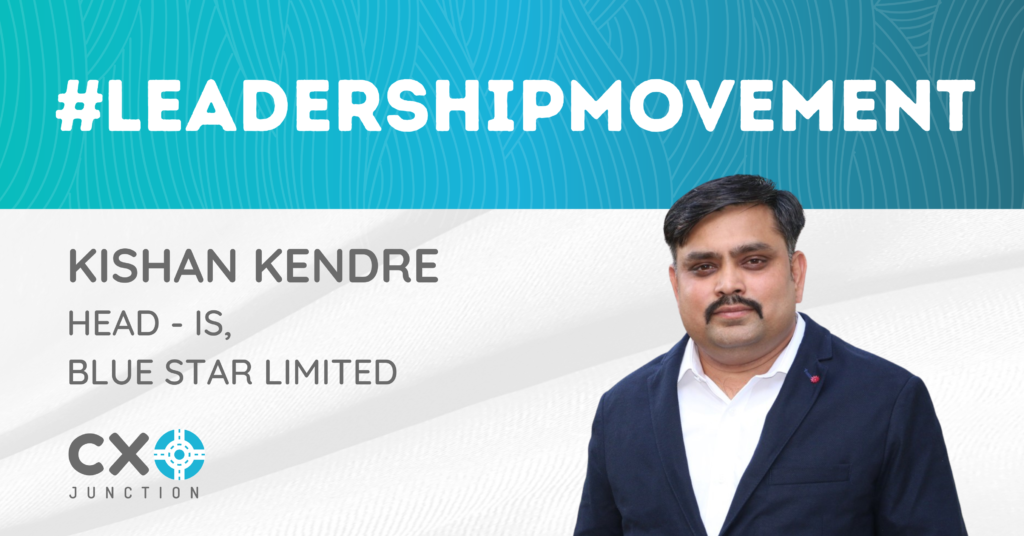 We extend our sincerest congratulations to Kishan Kendre on his recent appointment at Blue Star Limited. Our heartfelt wishes go out to him for a prosperous journey in all his upcoming ventures.
About Kishan Kendre –
More than 19 years' experience as an Information Technology (IT) professional with strong expertise in Cybersecurity management, IT management, and IT enterprise architecture. Senior-level executive responsible for developing and implementing an information security program, which includes procedures and policies designed to protect enterprise communications, systems and assets from both internal and external threats. A visionary who translates evolving industry risks into ambitious technology roadmaps and robust security programs. Excels at synergizing people, processes, and technology around proactive defense. Continually sharpen the company's security maturity, aligning solutions with cyber security frameworks. Developed and implemented enterprise security strategy and framework that consists of strategically integrated elements of NIST risk management and Cybersecurity frameworks, ISO 27001 and COBIT 5 for Information Security.
Demonstrated expertise in establishing and implementing large information security programs. Before, he held the position of Global Head – IS at Sun Pharma for a tenure of 1 year and 11 months. Visionary leader implementing information security programs for enterprise protection. Hands-on experience in large-scale security technology implementations for over 100,000+ users. Excels in aligning proactive defense strategies with evolving industry risks through ambitious technology roadmaps and robust security programs. Worked across multiple sectors, including Retail, Telecom, IT/ITES, and Petrochemicals.
About Blue Star Limited-
Blue Star Limited is India's leading air conditioning and commercial refrigeration company with over seven decades of experience. They offer expert cooling solutions for corporate, commercial, and residential customers, alongside products like water purifiers, air purifiers, and air coolers. Additionally, they provide allied contracting services and have joint ventures in Qatar, Malaysia, and Oman for MEP projects. Exporting products to the Middle East, Africa, SAARC, and ASEAN regions further strengthens their global presence.
If you are an Enterprise Leader and would like to join our CXO Junction City Chapter Groups, register yourself here: