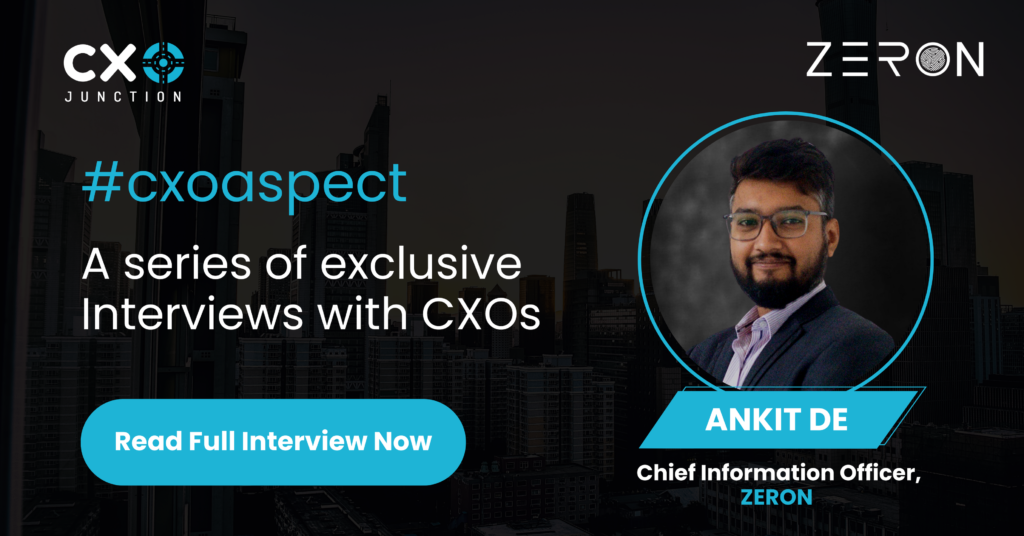 CXO Aspect – A series of interviews with CXOs to learn and understand diverse aspects related to their leadership and handling of multiple roles/responsibilities. This time, we are pleased to know about the journey of Ankit De, Chief Information Officer at Zeron. He has contributed towards cybersecurity and has set a remarkable working style. We are pleased to know his thoughts on a few set of questions.
Can you describe your current role, and what responsibilities do you undertake?
Certainly, as the Chief Information Officer (CIO) my role is multifaceted and critical to the organization's overall success. I oversee the management and strategic direction of the information technology (IT) and cybersecurity functions. In my capacity as CIO, I am responsible for the organization's cybersecurity posture. This involves identifying and mitigating security risks, developing and implementing security policies and procedures, and ensuring compliance with relevant regulations and standards. I oversee the management of security tools, incident response, and security awareness training for employees.
How will you describe your journey in the cybersecurity Industry?
In seventh grade, I became familiar with cybersecurity. Following that, I developed an interest in hacking. I started working in the cyber security sector after I started college. I gained knowledge about coding, ethical hacking, and IT infrastructure. It was essential for me to learn about the networking infrastructure. After entering the profession, I was given an introduction to the many prospects and sectors in the cybersecurity industry. In the initial days of my career, I started working on various managed cyber security projects for global clients and slowly got to understand the gaps and needs of the industry. Later, I helped our organization with DevOps, automation setup, compliance, and IT auditing.
If you could make one recommendation to the next generation of cybersecurity leaders, what would it be?
The attack surface is expanding every single day. Primarily due to businesses shifting all of their data to the cloud. The financial sector is also going toward the cloud environment with all the PII data. The latest COVID outbreak exposed a significant infrastructural deficit for distant workers. It is advised that the upcoming generation of cybersecurity leaders start by being familiar with the security flaws in their company. They may prepare for the future and construct a sustainable, stable, and secure infrastructure by routinely checking all the gaps.
How do you stay current with the latest security threats and technologies?
I read the NVD and CERT-In publications, as well as a number of technical blogs, to stay current on the most recent security concerns. I can acquire the most recent news in the cybersecurity industry thanks to these feeds. The opensource threat intelligence platforms can also be searched via to learn more about attack tendencies.  
Can you discuss a time when you had to handle a security incident, and what steps you took to resolve it? 
We began working on our product at the beginning of 2021, and we hosted everything there. We left some of our virtual machine ports open to the internet so that anyone may access them because of our limited expertise and resources at the time. Following the release of the virtual machines, we saw a large number of DDoS attempts. With the help of our Zensor agent and Zeron's fundamental capabilities, we were able to swiftly identify the attacks. We made all of the development environment VMs private and only accessible through VPN after determining the root problem. Due to economic constraints, we chose to use an opensource WAF technology like ModSecurity for the production system rather than a paid WAF.
Watch out the complete Episode 22 of "THE GB SHOW" on our Youtube Channel:
If you are an Enterprise Leader and would like to join our CXO Junction City Chapter Groups, register yourself here: