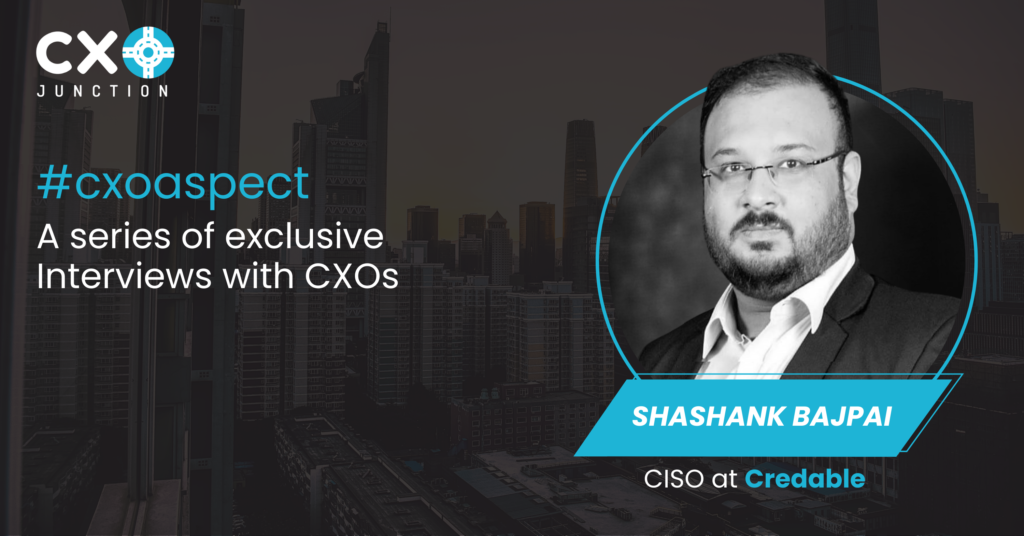 We at CXO Junction are sharing a few golden words from our CXOs. This time, we are pleased to know about Shashank Bajpai's journey in cybersecurity.
Shashank Bajpai – Cyber Security Expert & a professional from Information Security Compliance for Financial Services in India, currently the Chief Information and Security Officer at CredAble (FinTech). Possesses immense domain expertise in Cyber Security, InfoSec Strategy & Technology Risk. More than a decade long exposure of working in the Information Security domain and had started a professional career as a security developer with the E-Security team at CDAC Hyderabad.
Also, head cyber security as CISO at ACKO General Insurance Ltd. and lead the Corporate IT Infrastructure. Governed the entire end-to-end Information Security Risk posture and designed, drafted, and implemented several key cyber security policies, controls, and processes.
Check out the full interview now to learn about his notable achievements.
Question: Can you describe your current role, and what responsibilities do you undertake?
I am associated as a Chief Information Security Officer at CredAble – a new age FinTech resolving the working capital requirement of the supply chain. I am responsible for the end-to-end cyber security posture of the technology platforms at CredAble.
I am also a Certified CISO (C|CISO by EC-COUNCIL) and also has key security certifications like CISM – ISACA, CIPR – GCHQ and GXPN – SANS. My actual focus is on harnessing new age technologies like AI and BlockChain for Cyberdefense.
Question: How will you describe your journey in the cybersecurity Industry?
The overall experience of my career in Cyber Security has been that at any level one has to be continuously learning.
Cyber security professionals are at the forefront of protecting technology from all the threats. Also, owning up the accountability of ensuring Confidentiality, Integrity and Availability of critical technical services in the Digital Age.
Question: If you could make one recommendation to the next generation of cybersecurity leaders, what would it be?
As Cyber Threats keep aggravating so does the evolution of Cyber defense products and services.
In this fierce competitive era my advice to the next generation sentinels will be to always address the basics of Cyber Hygiene and general technology controls before embarking on any futuristic AI enabled security operations.
Tap here to connect with Shashank Bajpai on Linkedin: https://www.linkedin.com/in/shashank-bajpai/
If you are an Enterprise Leader and would like to join our CXO Junction City Chapter Groups, register yourself here: