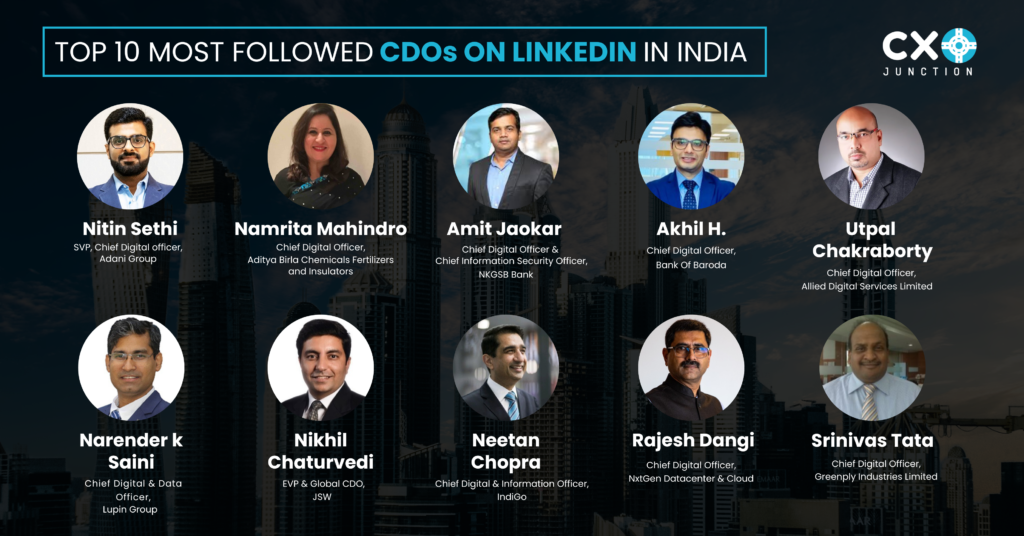 The chief digital officer, as a C-level executive, assists a company in developing and implementing digital initiatives that will monetize data, drive digital revenue, improve customer experiences and employee engagements, optimize operations, and create new business value. We've compiled a list of the 10 Most Followed Indian CDOs on Linkedin that you should be aware of based on their extensive experience, personality, and followers.
NITIN SETHI
Followers – 41, 352
Nitin has 21 years of experience in the fields of digital transformation, product design, and user experience. He is currently in charge of Adani Group's Digital Transformation. He specializes in leading multi-functional teams and establishing best practices and processes for user experience in organizations. He has created monetizable products for India's largest Internet companies. He has extensive experience managing large global platforms all over the world. He enjoys providing customers with a seamless experience across devices, digital touch points across platforms, and digital touchpoints across platforms, as well as effective communication. He specializes in creating lovable experiences for customers through simple and usable products. Digital Transformation, Design Thinking, D2C Platforms, User Experience & Design Strategy, Information Architecture & Interaction Design, and Online Consumer Experiences are some of the key areas his expertise lies in.
Linkedin Profile: https://www.linkedin.com/in/connect2nitin/
NAMRITA MAHINDRO
Followers – 32,919
Persuasive and influential C-level executive with more than 20 years of experience fueling exponential growth and innovation in multi-industry environments, enabling organizations to compete in the digital era. Transformation to digital Thought leader and practitioner credited with transforming businesses by conceptualizing new business and operating models, reimagining customer experiences, establishing best practices, and building capabilities. Built a culture of customer centricity and operational excellence while delivering revenue growth and profit maximization in complex, distributed, scale environments for Aditya Birla Chemicals, Mahindra Auto & Club Mahindra, and Taj Hotels. The "Build, Operate, Transfer" model was used. Technology evangelist with in-depth knowledge of new and emerging technologies and digital ecosystems such as AI/ML, Metaverse (AR/VR, NFTs), Web3 (Blockchain), and Industry 4.0 technologies.
Linkedin Profile: https://www.linkedin.com/in/namritasehgal/
AMIT JAOKAR
Followers – 31,582
A seasoned IT professional passionate about creating business opportunities crafted for the "Connected World". Leadership in Cloud Computing, Mobility, Virtualization, Innovation, Digitization, and Information Security is required. Focused on delivering significant and tangible value while solving real "Enterprise" issues with innovative solutions. He has assisted organizations in realising significant cost savings by successfully deploying cloud-based solutions to address critical enterprise and business needs. In charge of IT strategy, governance, and operations, including applications and infrastructure, information security, information quality, and enterprise mobility.
Linkedin profile: https://www.linkedin.com/in/amitjaokar/
UTPAL CHAKRABORTY
Followers – 25,459
A renowned data scientist, quantum physicist, and AI researcher. Allied Digital Services Ltd.'s Chief Digital Officer. Former YES BANK Head of Artificial Intelligence. SwissCognitive, the World's Leading AI Network, is an AI Global Ambassador.An eminent Data Scientist and AI researcher, strategist, and thought leader with over two decades of industry experience, including roles as a principal architect at Larsen & Toubro (L&T) Infotech, IBM, Capgemini, and other MNCs, as well as heading YES Bank's Artificial Intelligence division. He is currently the Chief Digital Officer (CDO) of Allied Digital Services Ltd. A well-known researcher, speaker, and writer on AI, IoT, Agile, and Lean, who has spoken at conferences all over the world. His recent machine learning research, titled "Layered Approximation for Deep Neural Networks," has been recognized at a number of prestigious conferences.
Linkedin Profile: https://www.linkedin.com/in/utpal-chakraborty/
AKHIL HANDA
Followers – 17,428
Akhil Handa is a Business Leader, Digital Strategist, Digital Business Builder, and Startup Mentor who is concerned with positioning BFSI to compete effectively in the rapidly changing digitized world. As a member of the Bank of Baroda Corporate Leadership Team, Akhil is responsible for the strategic digital direction of the bank. BOB is India's third-largest bank, with over 160 million customers and a 114-year history. As Chief Digital Officer, Akhil is responsible for digital transformation across the bank's lines of business, as well as ownership of the P&L- which spans the length and breadth of the country and has a global presence in 20 countries. He is in charge of digital payments, digital platforms (Retail, SME, and Agri), digital product engineering, digital channels (Mobile Banking, Internet Banking, Tablet Banking, WhatsApp Banking, ATMs/CRs), AI/Innovation, and Fintech Partnerships. Akhil is a well-known digital influencer and one of India's leading voices in the fintech industry.
Linkedin Profile: https://www.linkedin.com/in/akhilh/
NARENDER K SAINI
Followers – 16,699
Followers – 16,699
He currently works in the capacity of Chief Digital and Data Officer (CDO) at Lupin and is responsible for Digital Transformation initiatives within the organization. Prior to this, he worked for Reliance Unlimit, Tata Technologies, Sukrut Systems, Tejas Networks, and Philips Semiconductor (now NXP) as the Head of Technology & Services, R&D, Consulting, and Strategy in the areas of Connected Vehicle, Industry 4.0, Supply Chain, DSPs, Data Analytics & Monetization. He has been in charge of IT, CISO, and E-2-E Services Operations. The term "responsibility" refers to the act of determining whether or not a person is responsible for his or her own actions. He received the 1st mBillionth South Asia Award 2013 for m-Governance from the Digital Empowerment Foundation (DEF) in 2013, the DFID Sankalp Award (2012), and the Red Herring Award (2011).
Narendra is a well-known Business and Digital Transformation Leader and Strategist in the areas of IoT & Digital Technologies, Strategy, Innovation, and IoT/Industry 4.0. He brings over 22 years of experience in Product and Services organisations, including P&L, Technology, Business Development, and People Management. He brings key ingredients of a Digital Leader with experience in Smart Manufacturing/Industry 4.0, Sales & Marketing, and Supply Chain Management, along with an entrepreneurial background.
Linkedin Profile: https://www.linkedin.com/in/narendraksaini/
Register for CISM now!
NIKHIL CHATURVEDI
Followers – 16,372
Nikhil Chaturvedi is associated with JSW as EVP & Global Chief Digital Officer (CDO), JSW Group He is an astound Leader for Energy & Natural Resources industries for Asia-Pacific Leader for Industries & Business Advisors (IBA) Hub for Learning and Development Initiatives Co-Leader for Asia-Pacific Industry-Innovation team leader.
His major role involves in Ensuring secured, robust and user-friendly "Information Systems" to enhance productivity of people and assets, Managing IT and OT Strategy for the group covering Mining, Metals, Power generation, Cement, Infrastructure and Ports, Managing partner / vendor ecosystem to achieve business and IT goals and Business aligned IT Strategy formulation.
Linkedin Profile: https://www.linkedin.com/in/nikhil-chaturvedi-165927/
NEETAN CHOPRA
Followers – 16,266
Experienced in technology-related mergers and acquisitions and investment activity. Led the acquisition of TIK systems, an IT systems provider based out of Thailand. Delivered the Mercator business to Warburg Pincus, one of the top ten private equity firms in the world. Several years of hands-on experience in technology operations and delivery. End-to-end accountability for large IT work programmes and mission critical IT operations across multiple business domains. Led teams of 300-350 IT staff and managed multi-million-dollar IT investments and budgets. A three-decade track record of delivering business value and transformation through the use of technology and innovation. Passionate proponent of 'being digital' rather than 'doing digital' and assisting businesses in competing in the digital era.
A three-decade track record of delivering business value and transformation through the use of technology and innovation. Passionate proponent of 'being digital' rather than 'doing digital' and assisting businesses in competing in the digital era.
Linkedin Profile: https://www.linkedin.com/in/neetanchopra/
RAJESH DANGI
Followers – 15,751
Rajesh Dangi works for NxtGen Infinite Datacenter. He is a seasoned technology evangelist with over three decades of leadership experience as CIO, CISO, and CDO in information technology, cloud and datacenter services, emerging technologies (AI/ML/IoT, for example), engineering services / devops / release services, information security, and compliance management.
Experienced in Project/Technical Product Management, People Management, Training and Development, and Operations Management. Natural interpersonal and communication skills have earned a solid reputation for effective networking, vendor management, and strategic alliance building among critical industry resources.
Linkedin Profile: https://www.linkedin.com/in/rajeshdangi/
SRINIVAS TATA
Followers – 15,634
Experienced Chief Information Officer with a track record of success in various industry verticals. Strong IT professional with experience in IT strategy and business transformation. He has worked with a number of reputable companies, including Adani Industries, Kalpataru Group, and others. He has served 30+ years exceptionally in the IT Domain.
Linkedin Profile: https://www.linkedin.com/in/srinivas-tata-380774/
Disclaimer: The Blog is based on research done by an intern using keywords such as Most followed CDOs in India. Source: Linkedin
If you are an Enterprise Leader and would like to join our CXO Junction City Chapter Groups, register yourself here: